(I posted this at The American Catholic, and I thought the Star Trek mavens of Almost Chosen People might enjoy it,)
Time to refresh my Chief Geek of the blog creds.  The Axanar film project has produced huge fan interest, and well it should.  The Prelude to Axanar video below is the best Trek I have ever seen.
Jonathan Lane has written, and Mark McCrary has illustrated,  the first illustrated fan short story set in the Axanar universe.  With their kind permission I am posting it here.  Give your comments in the comboxes.  Go here to view the Fan Film Factor Blog.
Stardate: 2244.9
Location: The 602 Club, Mill Valley near San Francisco, Earth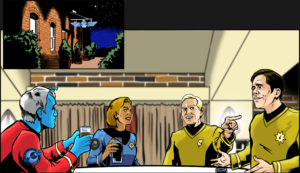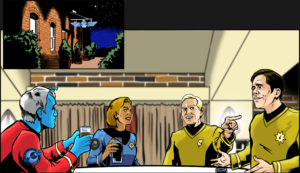 At a table…