MAAB: Perhaps to be a teer is to see in new ways.
Star Trek the Original Series, Friday's Child
I have never liked Presidents' Day.  Why celebrate all presidents when only a select few of them, like Washington and Lincoln, deserve to be celebrated?   Officially the date is still the commemoration of George Washington's birthday, which actually won't occur until February 22.  However, I will keep up my tradition of writing about presidents on this day.
I have a great appreciation for Presidents who do better than one might expect.  Washington was a Virginia Planter and an amateur soldier who with his rag tag forces defeated the mightiest empire on Earth and as President established endless good precedents to those who followed him.  Lincoln, prior to his election, had no executive experience other than running shakily a two man Springfield law firm but won the greatest war in our nation's history.  Chester A. Arthur was a machine politician catapulted into office by the assassination of President Garfield.  Surprising everyone, perhaps especially himself, he turned in a first class performance as Chief Executive.
Arthur first saw the light of day on October 5, 1829 into a large family, the fifth of nine children.  Seven of his siblings would live to adulthood.  His father was a Free Will Baptist preacher and an outspoken abolitionist, a position sometimes uncongenial to the congregations which he served, which led to frequent moves for the growing family.  Always a good student, Arthur enrolled in Union College in Schenectady, New York and studied the classics.  He was an ardent Whig in his politics and a supporter of the Fenian movement, wearing a green coat to show his backer of Irish independence.  After his graduation he taught school while studying law part time.  In 1854 he joined the law firm of Erastus D. Culver in New York City.  Culver was a family friend and an abolitionist.
On July 16, 1854, Elizabeth Jennings, a schoolteacher and a Church organist was running late for Church.  She boarded a streetcar owned by the Third Avenue Railroad Company at the corner of Pearl and Chatham streets in New York city.  So far, so humdrum.  However, Miss Graham was black and the Third Avenue Railroad Company banned blacks from riding on their streetcars.  The conductor told her to get off and she refused.  He then attempted to physically remove her, and she resisted.  Finally, a policeman was summoned and he removed her from the train.
The case became a cause celebre in New York City, with Horace Greeley giving the incident maximum publicity.  Miss Graham sued the streetcar company, and was represented by newly minted attorney Chester A. Arthur.  In his charge to the jury hearing the case, Judge William Rockwell gave them the following instruction: " Colored persons if sober, well behaved and free from disease, had the same rights as others and could neither be excluded by any rules of the Company, nor by force or violence."
The Jury found in her favor, and awarded her damages of $225.00, the equivalent of at least $5,000.00 in today's money.  By comparison, a Union private in the Civil War was paid $14.00 per month, and $50.00 per month was considered a good wage for a skilled workman at this time.
The next day the Third Avenue Railroad Company announced that it would no longer ban blacks from riding its streetcars.  By 1861 all New York public transit was desegregated.  This was not the only civil rights case in which Arthur was involved, an aspect of his life played up in his campaign biography in 1880.
In 1856 he met the love of his life, Nell Herndon, a Virginian visiting New York City.  Born in 1837, her father, Commander William Herndon, a noted American naval officer, became in death a national hero in 1857.  Captain of the SS Central America, a mail steamer, which lost power in a hurricane in September 1857, he arranged the transfer of 152 women and children onto another vessel.  Refusing all entreaties to save his own life, he went back to his ship to share the fate of the remaining 400 passengers and crew.  The ship sank on September 12, with all hands lost, the largest maritime disaster in US history.  In 1859 Nell and Arthur were married.  They had three children.  The oldest child,  William Arthur, would die at the age of two of a brain hemorrhage, his father blaming himself, irrationally but understandably, for his death.  Their other two children lived into adulthood.
While he was practicing law Arthur switched to the new Republican party and began to rise through the ranks of the party.  A supporter of William Morgan when he ran for Governor of New York in 1859, Arthur was awarded with the patronage post of Engineer-in-Chief of the New York state militia.  With the coming of the Civil War he was a Brigadier General of the State militia.  With his usual hard work Arthur made sure the New York volunteer regiments were well supplied.  He toured the front lines in Virginia and helped hasten on reinforcements for the New York regiments.  He received plaudits for his efforts.  Arthur asked for a combat command but was refused by Morgan who found him too useful acting as Quartermaster for the New York regiments.  When Democrat Horatio Seymour won election as Governor, Arthur was relieved from his duties in January 1863 and spent the rest of the War practicing law.
Following the War he continued his rise in the New York Republican party, becoming associated with the conservative faction of the party led by Congressman Roscoe Conkling.  In 1868 Arthur became chairman of the Republican Party executive committee for New York City.  In 1872 President Grant, at the recommendation of Conkling, appointed Arthur Controller of the New York Port, a lucrative patronage appointment which controlled a thousand jobs and came with a salary of fifty thousand dollars a year, the equivalent of what the President of the United States was paid, and  equal to $1,104,653.72  in today's currency.
As Controller Arthur was efficient, honest and popular with his subordinates.  However the enormities that were common at the time he participated in.  All subordinates did have to contribute a percentage of their pay to the local Republican party, and places were filled based on political affiliation, a system common throughout the nation since the spoils system was developed by the Democrats under Jackson.  Arthur held the job until 1878 using his political influence to defeat potential replacements, including Theodore Roosevelt's father.  In 1879 he became Chairman of the New York State Republican Executive Committee.  He was now a power to be reckoned with in New York and a powerful player in the national Republican party.
The year 1880 dawned bleakly for Arthur with his beloved wife dying suddenly at age 42 of pneumonia.  He never really got over her death.  He expressed guilt that business and political activities had taken him away from her so frequently.  When he was President gossips noted that fresh flowers were put before the photograph of a woman each day.  The tongues of the gossips were stilled when it was noted that the photograph was of the late Nell Arthur.  Arthur dedicated a stained glass window in her memory at Saint John's Episcopal Cathedral in Washington.  He could view it from the window of his office in the White House.
1880 was a presidential election and the Republican party was divided between Stalwarts, led by Roscoe Conkling, and Half-Breeds led by Senator James G. Blaine of Maine.  The main issue dividing the factions was civil service reform with the Half-Breeds in favor of it.  Former President Grant was friendly with the Stalwarts and badly wanted to run for a third term.  At the Republican Convention Grant was the front runner but could not get enough ballots to seal the nomination.  Blaine was a close second, and so it went for thirty-six ballots.  Eventually Senator James Garfield of Ohio emerged as a compromise candidate, a moderate Half-Breed.  Garfield expected the election to be close and picked Arthur as his running mate to mollify the Stalwarts.  The Democrats picked General Winfield Scott Hancock, perhaps the best corps commander in the Army of the Potomac in the Civil War.  The election was a squeaker, Garfield nationally having a margin of 7000 votes.  Arthur's assistance in New York State was decisive with the Republicans gaining victory there by only 20,000 votes.  Garfield would have gone down to electoral defeat but for the victory in New York.  Arthur was now ready to be one of the many forgotten Vice-Presidents, when fate intervened.
James Garfield, the second president to die at the hands of an assassin, in one way resembled Lincoln.  Like Lincoln he rose from poverty.  Unlike Lincoln he was college educated, enjoyed swift political success, and had an extensive military record, rising to Major General during the Civil War.  Also unlike Lincoln he had little time in office, being shot on July 2, 1881, during his first year in office.  He lingered in ever increasing pain until September 19, 1881.  He doubtless would have survived if modern medicine had been available.  He died as a result of a massive infection caused perhaps by the unsuccessful efforts of his doctors to probe his wound with un-sterilized instruments and fingers in a fruitless effort to find the assassin's bullet which had lodged in his abdomen.  His weight also plunged, intravenous nourishment being more than eighty years in the future.
No doubt it irritated, to say the least, Garfield when he learned that his assassin was a disappointed office seeker.
Born in 1841, Charles Julius Guiteau had failed at everything he turned his hand to: college, member of a commune, newspaper publisher, law, theology and marriage.  With such a record of failure it was inevitable that he would turn to politics.  Supporting Garfield in the 1880 election, he wrote a speech in favor of Garfield that may have been delivered twice.  When Garfield was elected, Guiteau convinced himself that he was responsible for electing Garfield.  Along with hordes of other office seekers he went to Washington where he unsuccessfully requested that he be named consul in Paris although he could not speak French and had no diplomatic experience.
Outraged, Guiteau purchased a revolver and stalked the President, finally ambushing him as he was entering the Baltimore and Potomac Railroad Station.  After shooting Garfield Guiteau shouted,  "I am a Stalwart of the Stalwarts. … [Chester A.] Arthur is president now!"  The reference was to the Stalwart faction of the New York Republican Party that opposed Civil Service reform that Garfield supported.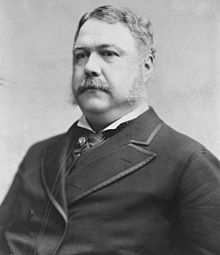 During the long death of Garfield, Arthur kept his distance, not wanting to seem like a vulture waiting for the poor man to die.  After his death Arthur announced that he would do his best to follow the policies of Garfield, and to the astonishment of virtually everyone he did just that.  With strong support by the President a Civil Service Reform bill passed Congress in 1883 and was signed into law by Arthur.  From an opponent of civil service reform he was now the number one booster for it.
Throughout his tenure he fought for civil rights for blacks but faced a Congress where Democrat opposition doomed the new civil rights bills he called for after the Supreme Court struck down the Civil Rights Act of 1875.
After the Civil War the Navy was left to rot.  Arthur began the long road back by getting Congress to approve funds for three steel cruisers, four monitors and an armed steam dispatch vessel.
In regard to Indians Arthur supported a move to an allotment system where private land would be given to each Indian family rather than the reservation system.
On the vexing problem of the governmental surplus (yes, you read that correctly), Arthur proposed a reduction in tariffs which lowered prices for American consumers.  After a tough fight, Arthur signed a tariff reduction bill in March of 1883.
Arthur ran an honest administration free from scandal, something that was quite refreshing.  Mark Twain noted, "It would be hard indeed to better President Arthur's administration."
Arthur did all this while effectively under a death sentence.  Shortly after he became President he was diagnosed with Bright's disease, a kidney ailment now known as nephritis.  There was no effective treatment for the condition in Arthur's time, and death usually followed after a long and painful illness.  In spite of this in 1884 he was interested in running for a term of his own but the tide ran strongly in the party for James C. Blaine who went down to defeat to Grover Cleveland in the fall, the first time the Democrats won the Presidency since Lincoln.
At the end of his term, Arthur had twenty months to live.  He resumed the practice of law with his old law firm, but his ill health limited his involvement with the firm beyond an "of counsel" status.  He died on November 18, 1886 at age 57.  In a tragedy for historians, he ordered burned almost all of his personal and public papers on November 16.
He is now one of our more obscure presidents.  He deserved better from history, but perhaps that is how he wanted it.