Four years ago I made a prediction as to the Presidential race which was on target.  Eight years ago I made a prediction on the Presidential race that was not.  Caveat emptor!
(I posted this on The American Catholic and I thought the election mavens of Almost Chosen People might find it of interest.)
I think Trump starts with a base of 260 based on early voting, voting by mail and political conditions in those states.  I have paid special attention to Florida where the Republicans have out registered the Democrats and added 200000 voters to their roles.  Florida will be close as it always is, but I view it as safely in the Trump camp.  Same for North Carolina where a nasty sex scandal is dragging down the Democrat candidate for the Senate and is having a depressing impact on the Democrat ticket in the Tarheel State.  Arizona looked iffy initially for Trump, but I now expect him to win by four or five in that state
This puts Trump just shy of the 10 votes needed to win.
The upper Midwest and Pennsylvania will be where the election will be decided.  If Trump takes one of Minnesota, Wisconsin, Michigan or Pennsylvania he will win.  I expect Trump to take all of these states in this order of probability:  Michigan, Minnesota, Wisconsin and Pennsylvania.  Michigan has an attractive GOP Senate candidate in John James and I think he will help Trump replicate his victory in 2016.  Trump almost took Minnesota in 2016.  With the chaos in Minneapolis and endorsements from Democrat mayors in the Iron Range, I expect Trump to take a state which has not gone GOP in a Presidential election since 1972.  Wisconsin can be a hard state to call, but based on early voting I expect Trump to prevail.  Pennsylvania is sort of a gift to Trump due to Biden's war on fracking and his pledge to transition from oil.  The overnight riots in Philly also help.
Additional states which might fall to Trump in order of probability are New Hampshire, Nevada and New Mexico, although I am not counting on them.  Here is what I expect the final electoral map to look like:  316 Trump-222  Biden.  I expect Biden to win the popular vote but I expect it to be closer than in 2016.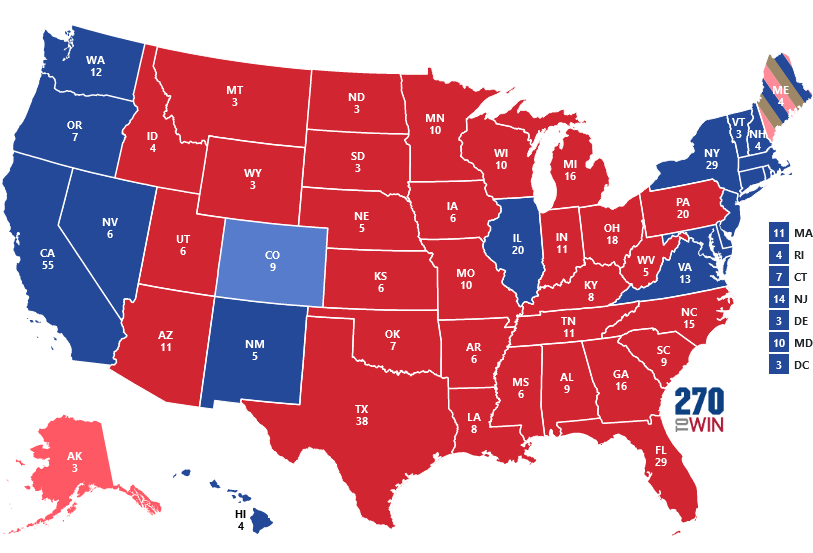 We shall all know soon enough if my prediction is accurate.